I really didn't mean to leave yesterday's post in a cliff hanger. It's just that I'm no longer motivated, so I abandoned my posting....sorry....
It actually took 2 days to write yesterday's post. I was uploading the pics while I was felting. I would set the timer, upload a couple pics, check the felting, back to the computer, then argghh! When the wrap had a nice texture--very pliable, but could no longer see the stitch definition, it was WAY too long. After the next 5 minutes, it was approximately the right size, but now it's rather stiff.
I have to show off the one neat thing I did, though. Since I had made a non-felted version, I traced it onto freeze paper. When I needed to check the felting version, I just laid in on top--I moved it to one side so that you could see my pencil lines.
So....the approximate size is good, but folded up? I dunno.
The next reason I got stuck is this: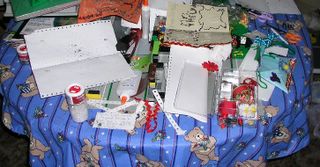 This is what my table looks like when my kids do crafts. I have in no way added, deleted, or changed any items in this picture. It really looks this messy. (This is not my eating table, however. Phew. We can still eat.)
This is where I normally put my sewing machine. I still need to sew on the aplix, but I'm just not going to touch this mess. Maybe I'll take over my eating table. :)